FamilySwap/Nubiles-Porn - Emma Starletto, Katie Morgan - The Dominate One (FullHD/1080p/2.62 GB)
16-05-2022, 02:12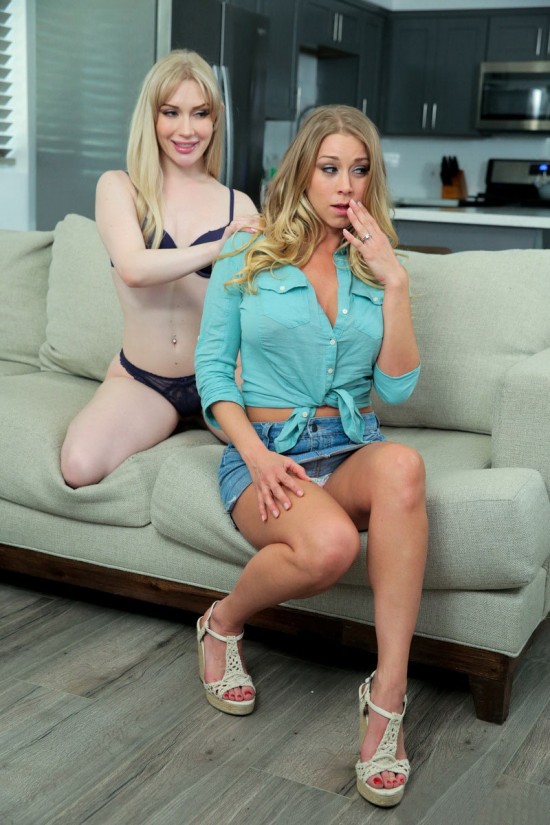 What would happen if four families each contributed one member to create a new family? In this episode of Family Swap, Katie Morgan and her swap hubby Will Pounder are thinking of taking their swap kids Emma Starletto and Nathan Bronson on vacation. While they're discussing the possibilities as a swap family, Emma's ideas get more and more sexual. When Emma eventually leaves to go to her room, Katie puts out there that Emma is a total sexual deviant and will probably be trouble.
Emma doesn't waste much time before proving Katie's prediction right. She waits until her swap daddy Will is on his own, then comes on to him. When Emma can see that Will's dick is nice and hard, she tugs it out of his jeans and jacks him off with a handie. She claims she'll be right back, then runs to her room to put on some sexy lingerie. Too bad that while she's gone, Nathan comes in and Will takes off, embarrassed. When Emma returns and finds Nathan in Will's place, she's cool with it. She'll take his cock instead. Will is into it until he hears Katie coming. He leaves before his swap mommy can find him in a compromising position.
All Emma wants at this point is to get some, so she waits for Katie to come in. Emma fields questions about why she's wearing just her bra and panties and then sits Katie down to massage her back. Gradually, Emma gets Katie to let her guard down until she ultimately talks her swap mom into letting her eat her pussy. The boys come back and find the girls going at it, and they want some too! Emma gets Will's face in her twat, while Katie pops her big tits out to squeeze as she's sucking Nathan off. On their hands and knees, the girls moan in unison as their partners give them tandem doggy style pussy poundings. The girls swap partners so that Katie can ride Will's cock while Emma rides Nathan's. On their backs side by side, the girls rub their clits as the boys keep their fuck parties going. Will and Nathan keep it up until they each deliver a creampie to their eager partner.




● Studio:&nbspFamilySwap, Nubiles-Porn
● Starring:&nbspEmma Starletto, Katie Morgan
● Genre:&nbspBig Areolas, Big Ass, Big Dick, Blonde, Blowjob, Cowgirl, Creampie, Enhanced, Fair Skin, Family Swap, Girl Orgasm, Girl-Girl-Boy-Boy, Lesbian, Lingerie, Long hair, Massage, Masturbation, Milf, Panties, Passion, Petite, Puffy Nipples, Pussy Licking, Sloppy, Trimmed

● Quality:&nbspFullHD, 1080p
● Video: MP4 AVC, 1920x1080 (16:9), 29.970 fps, 9 112 kb/s (0.147 bit/pixel)
● Duration: 00:30:53
● Size: 2.62 GB

Download:&nbspFamilySwap/Nubiles-Porn - Emma Starletto, Katie Morgan - The Dominate One (FullHD/1080p/2.62 GB)
---